We are closing August 31
After 17 years, RiverWinds Gallery at 172 Main Street, Beacon, NY is closing as of August 31, 2020. "It's been a painful decision to close" says Karl LaLonde, one of the co-owners. "We will miss our artists, our customers both local people and folks from out of town. And we will miss being part of Beacon's vibrant artistic community."
There will be a Going Out of Business Sale from August 1 – 31, 2020 with discounts from 25%-50% on most pieces of artwork: paintings, photography, pottery, jewelry, glasswork and fiber art.
"The pandemic has done us in!" says Mary Ann Glass. "We are the longest-running gallery in Beacon. We opened in July 2003, shortly after Dia:Beacon opened its doors. At that time, the west end of Main Street was a bit grim! But we just had a feeling that it was on the edge of change. And we were right. RiverWinds has been an integral part of Beacon's renaissance. For 17 years we have promoted and sold work by some of the finest Hudson Valley artists."
"It's been a long, wonderful ride" says Glass who is one of the original co-owners. " Our goal when we opened was to provide a place for Hudson Valley artists to sell work to customers who would appreciate such unique and beautiful items. We feel we've done that."
Voted twice Best Gallery in the Hudson Valley, RiverWinds Gallery is a multi-faceted art space featuring over 40 of the finest Hudson Valley artists; fine art including paintings, sculpture and photography, and contemporary crafts, including jewelry, glasswork, cards, and pottery. RiverWinds Gallery, LLC, is a member of the Beacon Arts Community Association (BeaconArts) www.beaconarts.org.
| | |
| --- | --- |
Cell Phone App Workshop
Intro To Painting Trees
with Mary Ann Glass,
10:30-12:30 $50/$35 returnees
Learn how to use some of the most powerful phone apps to correct, enhance and transform your images. iPhones/iPads/Androids and all levels welcome. To keep us all safe, this is offered on a one-to-one basis: contact us to set up a mutually agreed upon date and time. Preregistration required. Call 845-838-2880, email info@riverwindsgallery.com
with Mary Ann Glass, $75/$10 materials
Cyanotypes, also known as sun prints, are made with a 19th-century process that renders beautiful blue/white prints. A relatively simple process, we will coat paper with a cyanotype chemicals (very low toxicity), place weeds or such on top, put it in the sun to expose, wash paper with water and the image comes to life. To keep us all safe, we are doing one-on-one sessions. Contact us here - info@riverwindsgallery.com or 845-891-3307 and we will set up a time that works for both of us and promises sun! All materials provided, but you are welcome to bring your own weeds, laces, semi-transparent stuff.
​

$50/$10 materials fee
with Karl LaLonde 10-11:30, Date:TBD
Karl will teach you how to paint trees, Karl style! You will go home with at least 1 or 2 canvases. Paints and materials provided.
Preregistration required. Call 845-838-2880 or email at info@riverwindsgallery.com
@ RiverWinds: New Work in the Gallery
View From Vanderbilt, Mary Ann Glass
SALE: $125, photo, 16x20 framed, $125
Virginia Donovan, oil, Corn and Clouds
SALE: $125
Robins Big Fig, KP Devlin
oil, 12x16, SALE: $195
Blues In The Night, Karl LaLonde
acrylic, 24x24, SALE: $198
TheView GrainMill, Nancy Faulds
photo, 20x16, SALE: $125
Glacier, Heidrun Morgan
SOLD: glass mosaic, 16x13, $550
red bowl, Amy Schnitzer
SOLD:
Cisco Beach II. oil,
Ellen Metzger O'Shea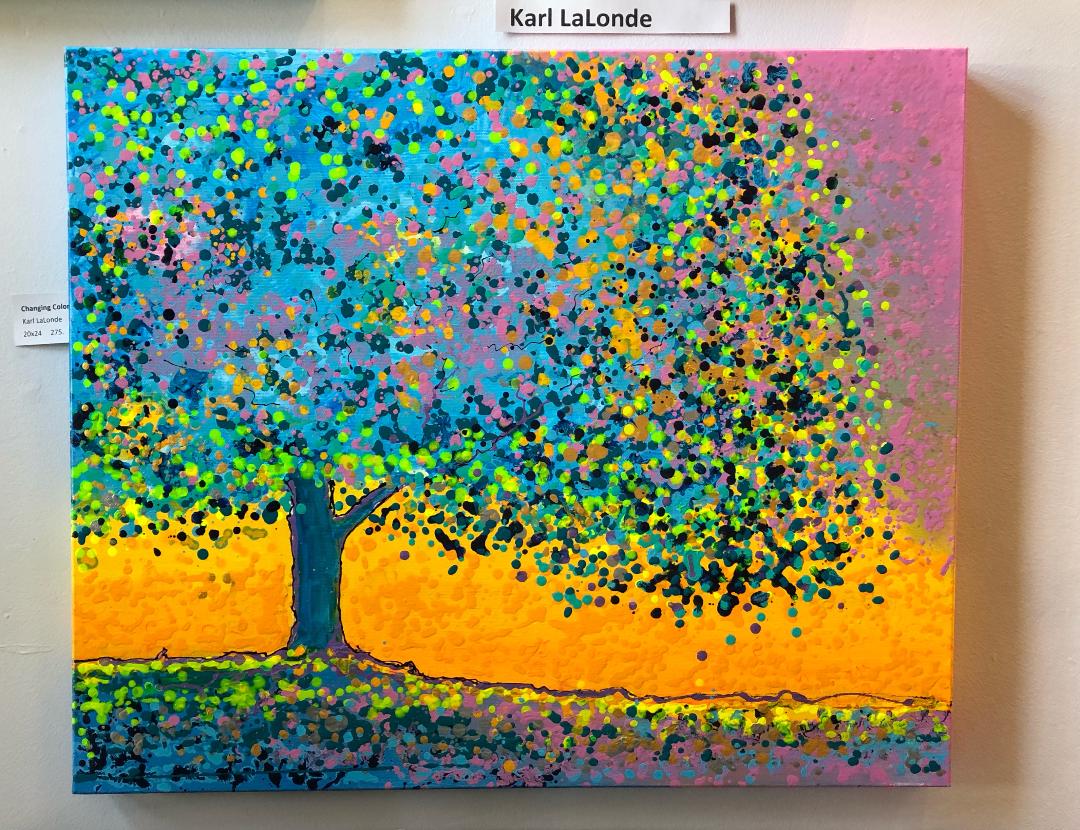 Changing Colors, Karl LaLonde
SALE: $125
Yin/Yang/Sun/Moon, Kathy LaLonde
macrame hanging, $150
Cyanotype, Mary Ann Glass
sculpture, Patricia Peer
SALE: 35% off
bowl, Joel Brown
wood-fired
Timeless, necklace, Canace
SALE: 20% off
gemstone pendants, Chris Brower
SALE: 25% off
Framing and Matting
Camera Repair: digital/film/lenses
Hanging Artwork at Your Home
Photography Workshops
Learning your digital camera

iPhoneography creativity

Photoshoots with review/critique

Portrait lighting

Lightroom: beginner and advanced

Photoshop Basics
​
​
See something you like on this website - call us at 845-838-2880 or email us at info@riverwindsgallery.com
We ship anywhere in the US and Canada.