Bob Madden: Stone Sculptor
Generally his work will alternate between two major themes; works which explore our place in the universe, concepts of space, time, destiny, and chance, and the second major theme of interpersonal relationships and the connections that bind people together. Keeping in mind the quote from Socrates, "The unexamined life is not worth living", he strives to develop works which ask the viewer to look beyond themselves and see how they relate to the rest of humanity and where they fit in a larger universe.
Carving stone has been his passion for over 30 years. He thinks of carving stone as a negotiation with the universe;. "What I want the piece to look like vs. what the stone will allow me to do. It's humbling to realize that the natural processes that create stone can take millions of years but if I'm impatient in my efforts I can destroy the natural beauty and character of the stone with a single careless hammer strike."
On Balance
Does Not Fit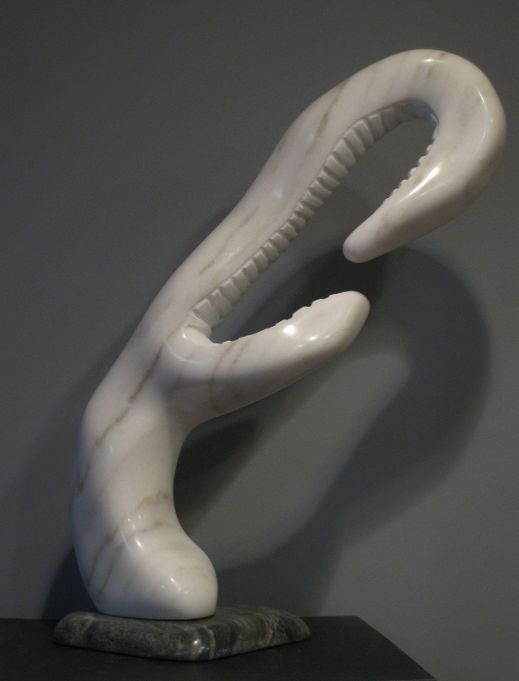 Scylla
Missed Connection
Castor
TEXTURE+TACTILE
Karen Madden and Bob Madden
April 9 - May 8, 2016
Artist Opening April 9, 5 - 8pm
Artist Talk by Karen Madden
May 7, 4 - 5:30
Karen Madden: Fiber Artist
Zen Garden
River Road
Moonphase
Moonlit Clouds
Amber Waves
Desert Clouds
Missing Pieces
It's A Blast
Desert Sky
As an artist of her own design, Karen Madden has the freedom to transcend boundaries of traditional fiber art and welcome in new and creative ways of utilizing materials and techniques.
She begins many of her designs with wool because of the earthy nature of it. Wool is a renewable resource and has been used for clothing and adornment for thousands of years. Using it as an artistic medium highlights its versatility. As man-made fibers become more exotic, incorporating them into her designs adds a modern element of color and texture.
To challenge her boundaries of creativity, she breaks away from traditional fiber related techniques by adding non-fiber materials such as metal, stone, and/or beads. Many would consider these materials inharmonious with soft fiber, but she sees them as a way to add depth and dimension to wall hangings.
Her inspiration comes from the world around her. "The challenge I face is to make the idea come alive in fiber." says Karen. "Each new piece emerges from ideas that are deep in my mind, just waiting their turn to be brought to life. I invite people to enjoy my work for the beauty that I see in it as I'm creating it."
Fiber is an insulating material which brings warmth to her soul and energizes her and she extends that warmth and energy into each of her pieces.
Opening Night
Opening Night
Opening Night
Opening Night
Opening Night
Opening Night
Opening Night
Opening Night
Opening Night
Opening Night
Opening Night
Opening Night
Opening Night
"Stone sculpture allows me to speak in a universal language." says Bob Madden. Creating a stone representation of an idea, a concept, or a feeling for the viewer to interpret through their experiences allows him to begin an unspoken dialog. Stone is his choice of medium because it is perceived as a hard, cold, and unfeeling material. But when stone is presented as a soft or complicated shape, a person will react with amusement and amazement that opens their mind to new possibilities and prompts them to reexamine their views on the broader subject matter.
Thanks to everyone that came out on April 9th to meet Bob - learn about his sculptures and
Karen's amazing fiber art.